Here is the default configuration of the Controller for ALASTERE. You can change it to suit your own style in the OPTIONS menu.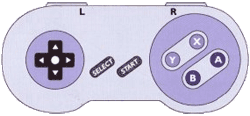 CONTROL PAD: Use the Control Pad to move your characters around. It is also used to move the cursor and switch window displays.
SELECT BUTTON: Use the Select Button when outside of battle to view the World Map. In battles, it can be used to toggle Auto-Battle ON/OFF.